How to Host A Virtual Open House Live On Instagram
With COVID-19 cases on the rise once again, Real Estate Agents & Brokers are facing increasing challenges with drawing people to open houses to show their listings. If there is one trend that I have noticed since the pandemic started, it is that successful business owners are constantly reinventing the way they are doing business. This totally applies to the Real Estate industry.
I'd like to share an example of one of my clients, Michael Switzer, who recently leveraged Instagram Live to hold a Virtual Open House for a new property listing.
With covid cases continually on the rise, holding an actual open house is becoming more and more of a challenge. Fewer people want to view a home in-person, and rightfully so. Not knowing who was in the home beforehand, how many people have been in and out, how well it was cleaned previously…the list of potential concerns continues. Not only that, the homeowners – while they still do want to have their property sold, also face the same uncertainties in not knowing who has come into their home, what they may or may not have touched, and if they may or may not have covid-19 and don't even know it.
As a Social Media Marketing Account Manager, it has been my role to help clients, like Michael Switzer, remain very active on Instagram & Facebook. My intention is to get his content noticed in an increasingly busy stream of other social posts. I also want to ensure we creatively use pictures and videos featuring properties for sale so that his posts stand out. To accomplish this, you have to think differently and do things in a different way than the competition. And that's exactly what we did.
I'm going to share a couple of examples of what we did to promote a recent virtual open house he hosted, live on Instagram. I'm also going to share what was done during the video and what we did in the days and weeks following the virtual open house to help build more engagement, attract more attention and ultimately sell his property listing fast.

AWARENESS
First and foremost, let's talk about AWARENESS.
It's one thing to jump on Instagram or Facebook and go Live but, to boost overall success you must tell people, in advance, what you are going to do, when, and why they should watch.
A couple of days before the open house event, I created several different graphics for Instagram & Facebook Stories as well as slightly different graphics for regular feed posts that were shared on Facebook, Instagram, and LinkedIn. The goal of these posts was to inform his followers what, when, where and why they should tune in. 
Another effective strategy we used was to make the graphics slightly different for feed and story posts. I always try to keep a consistent look for graphics so that his brand is identifiable and memorable. How is this done? We ensure the colours are consistent and on-brand; the logo is on almost every post graphic; and occasionally, but not always, use his photograph on graphics.
As this Virtual Open House was a unique and important event I wanted to ensure our promotional posts stand out – noticeably different than others. By changing up the post design a little bit, with slight changes to font, colour, or style, you can capture someone's attention better and, as I like to say, "Stop The Scroll" to get more attention.
Another strategy to try is animated graphics. I don't want to post the same exact style over and over so I try to balance posts with static images, video, and animated graphics. Movement in images vs. static graphics does make a bigger impact. The movement creates attention.
To build awareness for this Live Open House Event, we shared these unique looking graphics to inform people when the open house was going to happen, that it will take place LIVE on Instagram, and we used a call-to-action to ask them to join.
We repeated the post in the two days leading up to the event with Instagram stories posts. Story posts create F.O.M.O. (fear of missing out). Because Story posts last only 24 hours, people often watch for these when opening the Instagram app before scrolling through feed posts.

GOING LIVE
I'll share ideas for equipment (like lighting, cameras, microphones, etc.) as well as a list of things to consider before you go live in a future post (if you have specific questions – feel free to comment below or send me a direct message).
What I want to share in this section is a couple of pointers for how to prepare to go live on Instagram, beforehand. I'll also share what Michael did that was a bit different and helped his viewers feel as if they were right there with him, at the moment, as he was live during the private home viewing. This is the magic that makes holding a LIVE recorded video virtual tours so impactful and effective.
Michael started his live video outside of the home and began by recording himself talking. I call this the "intro", pretty obvious, but if you miss this step it can really affect how long people watch both live and later on. 
Remember, when you start a live video it's important to catch people's attention. Taking time at the beginning of your broadcast, whether you have many ppl watching live or not, it's key to hook them right away. This video will be repurposed later and you want the video to engage people from the beginning so they continue to watch. Don't, I repeat, DO NOT waste time in the beginning until you feel you have more people watching live. Just keep going. Assume you have lots of people watching, even if you don't. Why? Think about what it would be like if you were tuning in later on and the video began and it took 2-3 minutes before anything really started. Would you even watch past the first 30 sections? Likely not. In fact, the first 15 – 30 seconds are the most important. You really need to hook people in and right from the beginning explain what you are doing and why they should continue to watch. 

Pro Tip #1:
Use the occasional teaser to keep people watching. As an example, you can state at the beginning there are some special features of this home that you are going to show and "you don't want to miss it". Small teasers like this will let people know what's coming up and why they need to continue watching your video – right through to the end.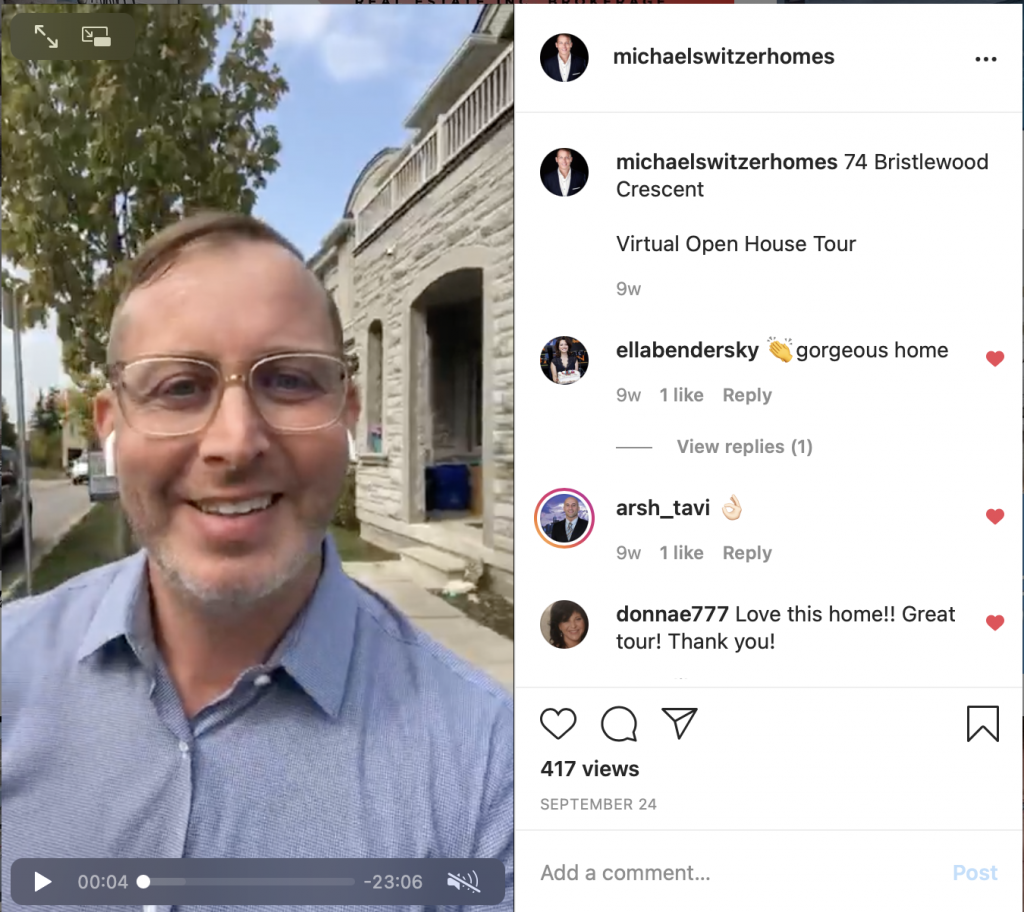 At the beginning of his live broadcast, Michael took a very short time to introduce himself and quickly continued to talk about the home. Remember, the point of the video is to showcase the property. Michael kept his intro short and to the point and jumped right in talking about the property. He pointed out the unique elements of the exterior of the home. Why it's unique, what makes this home special. This is exactly what someone would want to know who is interested in possibly buying a home in this area. 
Soon after he moved inside the home and continued to walk around showing different elements of each room as well as key unique features of the home that make it stand out from others.
What I found made the biggest impact was how Michael was able to feature the home in a unique and also personal way. With regular posts on social feeds, we can't specifically feature some of the key highlights of this home in the same way he did with video. He had time to go into detail about each room or specific features of rooms that make it special. Showing a slide show or animation of a bunch of pictures in a post is one thing, but being able to talk about the property and explain things as if you are right there with him – HUGE DIFFERENCE.
GET INTERACTIVE
The other added benefit of going live on Instagram is your ability to interact with people watching live.
As part of your broadcast, you can invite people to ask you questions. While broadcasting you will see comments show on your phone screen. Being able to respond directly to people, live, while you are broadcasting is super powerful. As a real estate agent, if someone asks something about a specific room or feature in the home, they can ask live, and you can answer live. Again, this allows someone to view the home safely, wherever they are at that moment and they can ask questions if needed. This direct and live engagement is extremely helpful for you, as the real estate agent, to be aware of details that are of interest to your target audience.
By going live and inviting ppl to watch, Michael was able to show this listing in a UNIQUE way. It was different. It was made to be an event that people could be a part of, they could get a more in-depth view of the listing and could obtain detailed information for the property. Via live comments, people were able to ask him questions as if they were there right beside him at the moment. This was huge and made marketing this listing so much more impactful. 
By using the available technology, doing things in a different way, Michael Switzer was able to stand out and leverage the opportunity to show his listing in a time when it would otherwise make his marketing efforts very difficult.

PRO TIP #2:
Ensure you
save the video broadcast
as a recording
to your phone. You can later publish the video in your feed via IGTV. Not everyone will be able to watch live – OR – they may not be able to watch the entire live broadcast. But, by saving the video and posting it as an IGTV shortly after, this interactive virtual open house video can then be watched later and seen by many more ppl. BRILLIANT!
Forgetting this step is a huge missed opportunity to reshow this listing over and over and to ensure it is seen by a larger audience.
REPURPOSE YOUR CONTENT
I'll cover a few impactful ways to repurpose live video after recording next, but I wanted to point out another important benefit to posting the live video as an IGTV post after you are done.
This important benefit is Messaging.
Yes, more engagement! – That's what we want, right?
If you share your video as an IGTV post after your broadcast is complete this video will become another post in your Instagram feed. And like any post, people can leave you comments. In addition, people can send you direct messages about your post. This allows you to have another opportunity for people who couldn't watch live to ask you questions. In this situation, Michael was able to receive comments on his posts and questions from people about the property after the virtual open house. He also attracted Private Direct Messages through Instagram about this property listing. And that's where the magic happens. By engaging with his audience/potential clients, he was able to answer questions about the property and further promote it to those interested even after this Live Virtual Tour had ended.
PRO TIP #3:
While recording, remember to use call-to-action statements during your walk-though to say things like "If you have any questions about _______ ,just leave me a comment below or send a direct message" If you don't add this in, I guarantee you will have fewer engagements.
You have to ask for engagement to get it.
REVIEW: How To Effectively Promote Real Estate Listings With Instagram Live
In this article, I have outlined how my client, Michael Switzer, leveraged Instagram Live to stream a Virtual Open House and how we effectively promoted the live broadcast before and after the open house was complete.

This process allowed him to showcase his property in an interactive way, build awareness of his listings, extend his promotion after the broadcast ended, attract messages about the property which all helped him sell it FAST.

Here is a simple breakdown of what was done:
Created social post graphics to promote the Instagram live event.

Shared post graphics on different platforms (as standard posts and story posts) about 2 days prior to going Live.




This builds awareness, informs people when to tune in live.

On the day of the live broadcast, posted a final reminder about the event.

Prepare a short outline or plan, for yourself, before you go live. The purpose is to help you plan what to showcase and talk about.

Plan to go live for about 20 – 30 mins. This may sound long but once you get started you will see how fast the time goes by.

Start with a very short intro and jump into showcasing the property. Do not wait for a set amount of people before you go live. Just get started.

Use teasers while talking at the beginning of your video to let people know there are unique and special highlights. This will encourage your live (and post live) video viewers to watch the video for a longer duration.

During the video invite people to ask you questions. For those who watch the replay, they can post questions in the comments or send you direct messages.

Once you are done, save the video and post it later as an IGTV video. Those who could not watch live are then able to watch later and the video is added to your regular feed.

You can also use the live recording and reshare the video on other platforms (Example: Facebook, LinkedIn & YouTube).

You can further extend the promotion of your IGTV Video post a few days to a week later with Instagram Story posts that link back to the IGTV post.
I hope this article has helped you see how you can leverage Instagram Live to promote your real estate listings with an interactive virtual open house. If you have other open house tips to share, post a comment below.